Zoomlion Fluid System Technology (Tianjin) Co., Ltd. was awarded the title of "Beijing-Tianjin-Hebei Quality Engineering Service Enterprise"
---
---
On the afternoon of September 24, the 2020 Iron and Steel China-Tianjin Iron and Steel Industry Chain Summit Forum, jointly hosted by Tianjin Iron and Steel Industry Association, Tianjin Chamber of Commerce of Metal Materials and Wiron.com, came to a successful conclusion. Zhonglian Fluid System Technology (Tianjin) Co., Ltd. was invited to attend the forum as an award-winning enterprise. The forum was attended by hundreds of industry experts, leaders of steel mills and representatives of iron and steel circulation enterprises from the Beijing-Tianjin-Hebei region. Many experts and scholars made speeches in terms of market research and construction of Xiongan New Area and other aspects.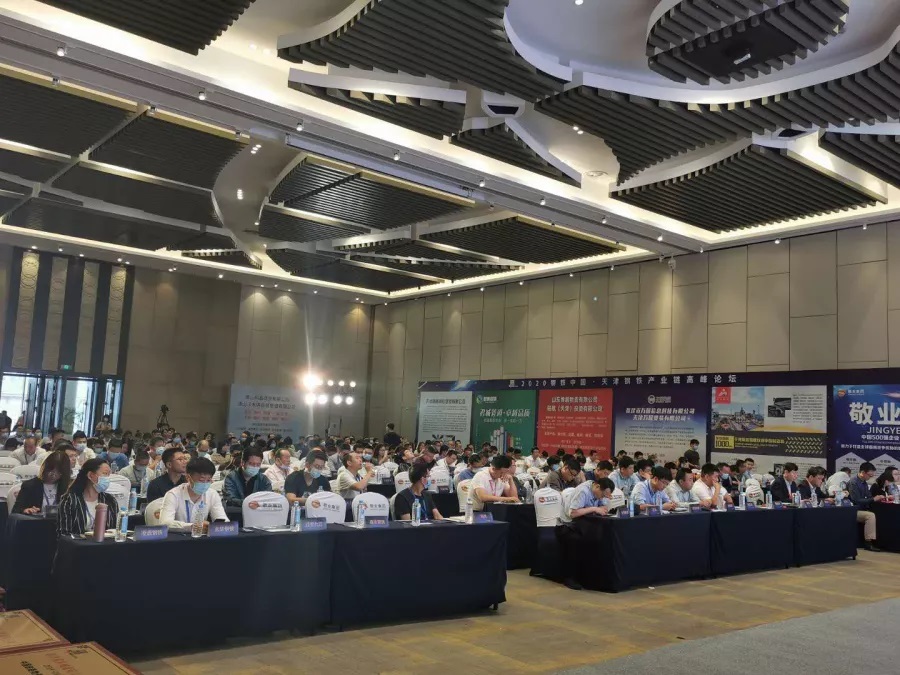 This year's forum to Beijing, Tianjin and Hebei quality engineering service enterprises and other award-winning enterprises awarded recognition. The evaluate recognition by the national quality evaluation committee and Shanghai steel iron and steel enterprise organized, follow the principle of fair and just, comprehensive market survey and construction measure of a customer service evaluation factors, vanda fluid system of science and technology (tianjin) co., LTD was awarded "2019-2020 annual beijing-tianjin-hebei high quality engineering services company.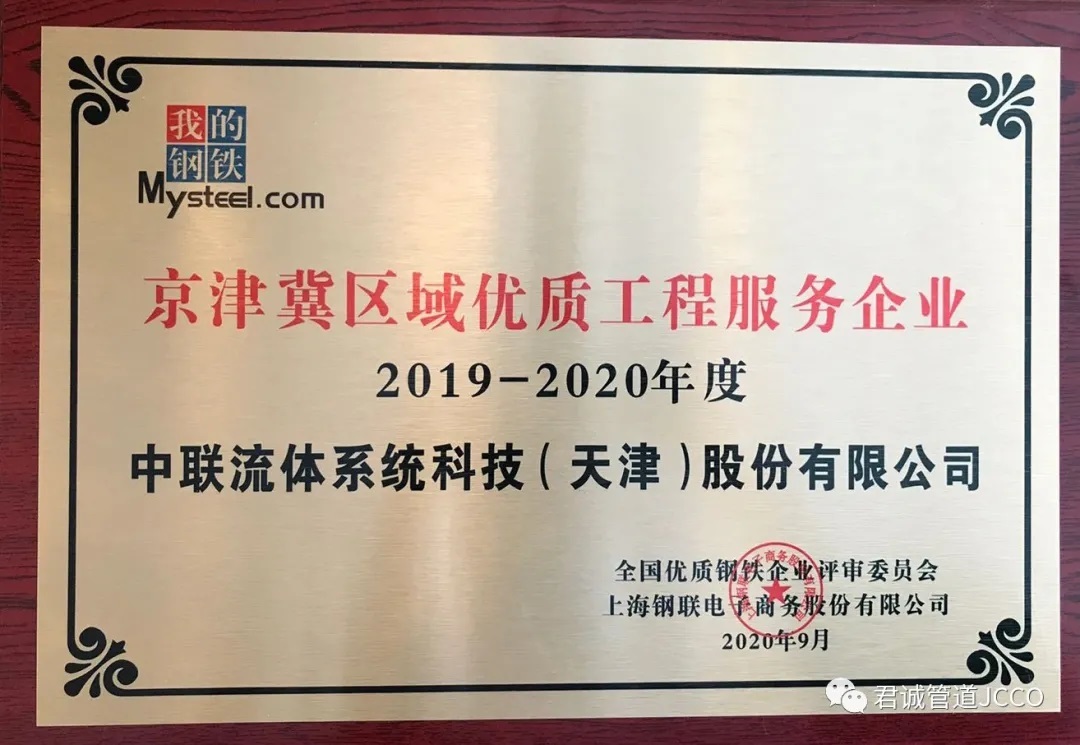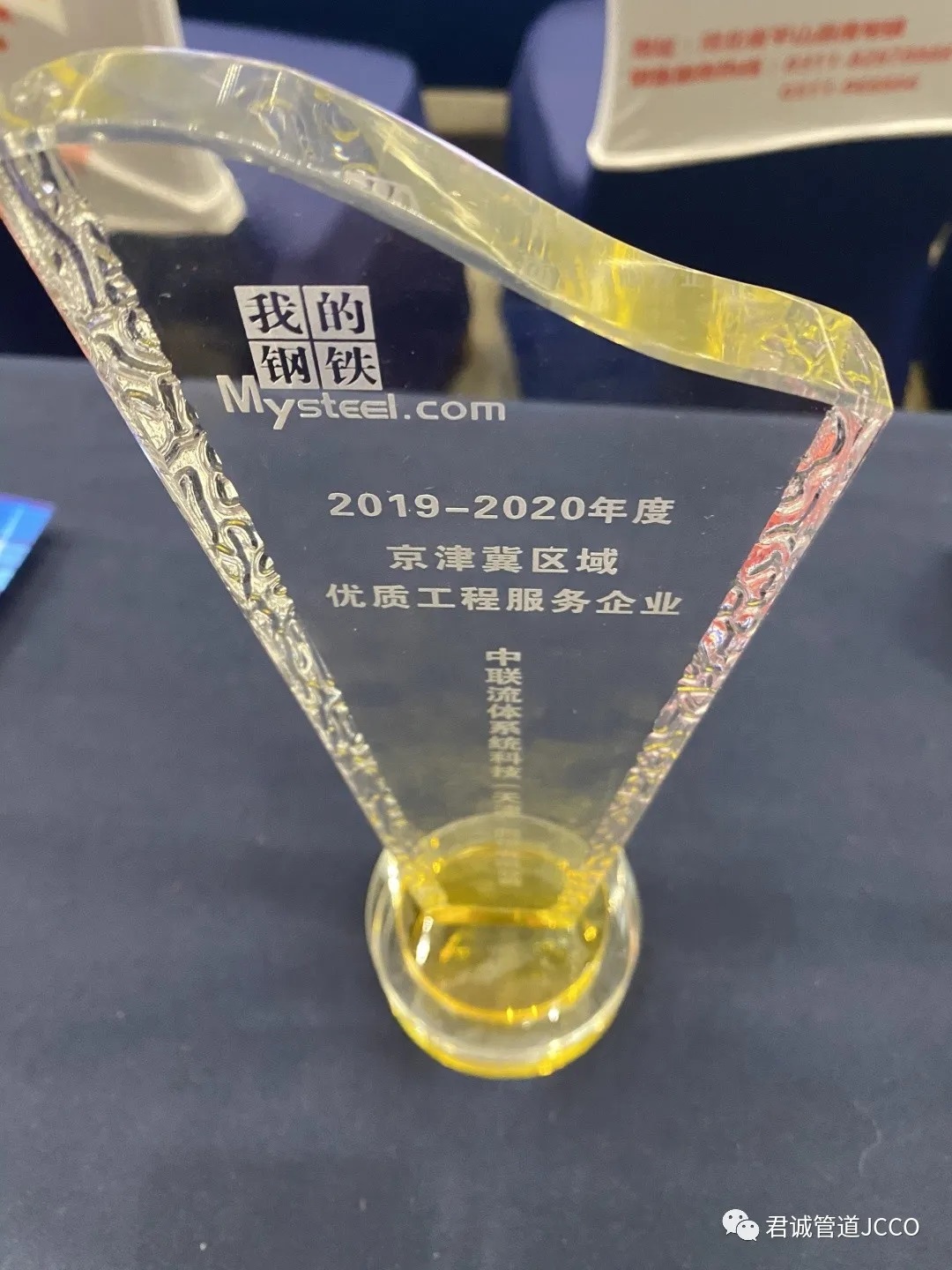 Zhonglian Fluid System Technology (Tianjin) Co., Ltd. is the holding subsidiary of Juncheng Pipeline. The company integrates R&D, production, sales and engineering services, and specializes in providing integrated pipe and pipe fitting supporting services for fluid transportation projects such as construction, water supply and drainage, gas and so on. Relying on the cross-supply capacity guarantee of the three major production areas of the group, Zhonglian Fluid's products are widely used in various construction projects and have been unanimously recognized by construction enterprises and end customers.
---